We've built Zestful from the ground up to be the most powerful, yet easy to use perk program for companies of all sizes.
Home Delivery and Pickup
Manage your Delivery and phone order business with Ease with Cust plugin.
Take delivery orders in only a few clicks.
Search existing customer by phone
Assign driver.
Filter orders by time.
Automatically bump items to the kitchen before delivery.
Highlight late deliveries by Red and Yellow.
Save delivery history and reorder.
Customer Monitor
A great way for a customer to track changes in their orders. They will be fully aware of this monitor about their orders and payments. With large pictures of the menu items also makes it more attractive to customers.
Intuitive Pizza Designer
The fast and accurate Pizza ordering system
Support various sizes of Pizza: Personal, Small, Large, Extra large or custom sizes of Pizza
Different curst types.
Graphical modifier window for full, half and quarter section.
Pizza price builder by Sizes, Crusts, and Multipliers.
Sections and full-size topping pricings
Modifier price by pizza sizes.
Integrated Gift Card System
Gift card generator is integrated into the POS application. Stores can create them, sell, activate and redeem then. You can export bulk gift cards in excel spreadsheet and send to magnetic card manufacturer.
Efficient Employee Management
With customized employee access levels you can limit what information your employee can see on the POS.  POS will maintain employee attendance with the clock in and clock time and also generate Payroll, tips and TRAC reports.  For any errors, managers can adjust attendance and keep it running smoothly.  It will provide you real-time employee sales statistics, hourly productive reports and keep track of void and wastages.
Meal Courses
Fine dining restaurants can plan meal courses in ORO POS. It can start from three courses, appetizers, main dishes, and desserts. From there, it can decide on the number of dishes it will like available under each course. 
Brew Beautiful Receipts in the Back-office
Templates and Vars No need to go for compiling receipts. Most of the changes you can do in Receipt configuration in less than a minute. Select variables from the sidebar, click on preview, save and done. Since templates stored in the database, all the terminals will be updated instantly. ORO support 80, 76 and 58mm paper sizes.
Lightning Speed
Take more orders in less time. ORO POS integrates a superfast order taking a system, saving every extra tapping in a touchscreen.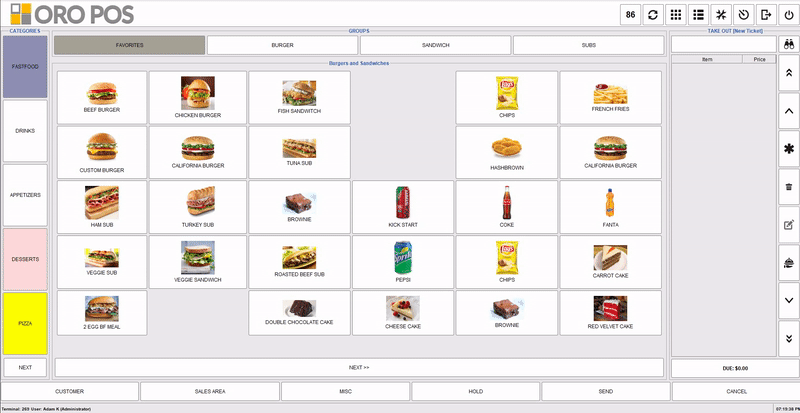 Reservation System
Integrating your reservation system streamlines both your and your customers' experience. When your customers arrive, they get to avoid the queues and go straight to their table, and you simply bring up their reservation and assign it to their bill. Reservation is part of the FloorPlan plugin.